Bergy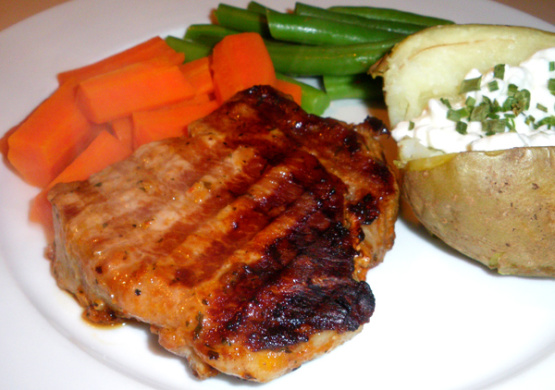 I love this recipe because it's easy to fix, and is very tasty. And it makes the meat so tender, no need for a knife. And you have many chioces in flavors, 6 or more. I just saw the ad for this product, the marinade, and had to try it. I cook the meat in the oven, so you have free time to prep or cook the side dishes, or do other things til the meat is done. It's a keeper.
2 -3

pork steaks

1

package mccormick grill mates spicy caribbean marinade
1⁄4 cup water

2

tablespoons vegetable oil

1

tablespoon vinegar
I just came across this marinade in the grocery store, in the spice isle, and the flavors caught my eye, so I thought I'd try some.
I was hooked.
There are several more flavors available, 6-8 I think, all together.
The Spicy Caribbean is my favorite.
It is so good!
Combine the marinade with 1/4 cup water, 2 tbsp's vegetable oil,& 1 tbsp of vinegar, as package states, in a 3 qt.
glass casserole baking dish.
Mix well.
Put 3 good sized pork steaks into the casserole dish.
Turn to coat both sides.
You may want to add more marinade, to adjust for your taste.
One package may not cover enough, according to the size of the steaks.
Marinate in the fridge for 30 minutes or longer, depending on when you want to cook them.
I've left them in overnight.
Then, when you're ready to cook them, I cook them in the oven at 350 degrees for 1-1 1/2 hours.
You can grill or broil them too, if desired.
This can also be doubled too, 6 steaks, 2 pkgs.
marinade, etc.
This is so delicious, so tasty& tender.
The meat just falls off the bone.
And you can drain the fat off prior to eating, as well as pat them to rid even more fat.
And the excess fat on the steaks is easily removed while eating.
Their is several different flavors of this marinade, but this one is my favorite.
It is a bit spicy, so be aware.
But I love the spices in this flavor.
And you can use beef& chicken as well.
I love this dish!
You will too!
All you need to add is some mashed taters& gravy& a few veggies, and you're ready!