gailanng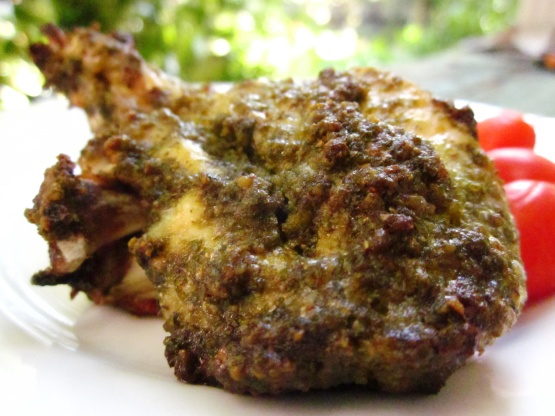 A friend of mine brought this recipe back from her travels to the Mediterranean. She actually cooks the chicken on a barbecue. She roasts the vegetables while the chicken in marinating if she hasn't marinated the chicken overnight. The chicken in cooked on the cooler part of the barbecue.
Place the basil, garlic, Parmesan, toasted pine nuts and lemon juice in a food processor and process until combined.
Gradually add the olive oil, with the processor still running, and process until smooth.
Reserve 3/4 cup of the pesto.
Coat the chicken fillets with the remaining pesto and marinate for at least 1 hour, or overnight if time permits.
Place the chicken on a tray and cook under a medium grill (broil) for 5 minutes on each side, or until cooked, brushing with any remaining marinade during the cooking.
Serve with roasted vegetables, (such as eggplant, capsicum, red onion) and the reserved pesto.