Marinated Olives - Aceitunas Aliñadas
gemini08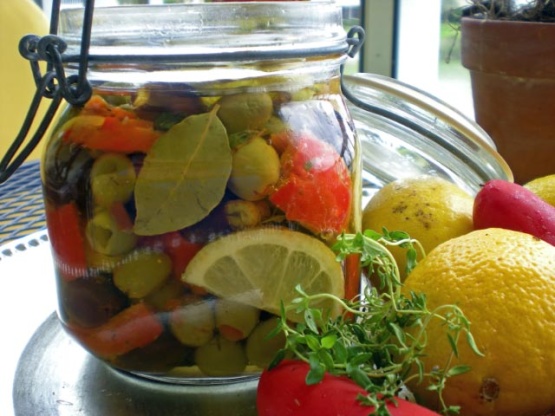 Spanish cooks like to buy their olives at the market and marinate them themselves. They add roasted peppers, lemon slices, along with thyme, bay leafs and other seasonal herbs, seeds and vegetables. A jar of these is handy to have in the pantry to serve with a selection of tapas and drinks. From the book "World Food - SPAIN" by Beverly Leblanc.
1

cup green spanish olives in brine, pimiento stuffed, rinsed

1

cup black spanish olives in brine, rinsed

2

ounces broiled and peeled sweet peppers, sliced thinly

2 -3

thin lemon slices

2

sprigs fresh thyme

1 -2

bay leaf

1

dried red chili
1⁄2 teaspoon fennel seed
1⁄2 teaspoon coriander seed, cracked slightly
Place olives, sweet pepper strips, lemon slices, bay leaf, chile, fennel and coriander seeds in a two cup preserving jar, making sure the ingredients are well mixed. Pour over enough oil to cover.
Seal the jar and set aside at room temperature for at least two weeks before using.
Cooks note:.
Do NOT add sliced garlic to an oil marinade such as this because of the possibility of botulism.
If you store the marinade in the refrigerator, the oil will become claudy but it clears again as soon as it is returned to room temperature.
Cooking time is marinating time.