Marinated Mushrooms, Artichoke Hearts, and Cauliflower Salad
Debbwl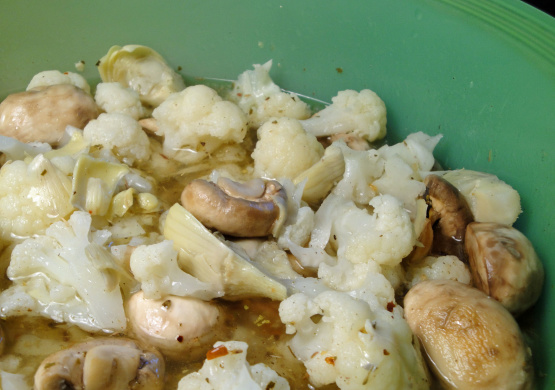 I got this recipe from a former roommate of mine, this is her mother's recipe.

Top Review by Debbwl
Charismatic marinated! The veggies are cooked to perfection as well as being a delightful combination. Maid as written but next time will plan on having lettuce on hand just to bring out the color and give a little pop in the eye department. This would be a great pot luck dish and plan on using it for an upcoming family get-together. Thanks for the post.
Saute mushrooms in a little butter about 5 minutes.
Break cauliflower into small flowerettes and steam for about 5 minutes.
Cut artichoke hearts into quarters.
Combine all ingredients in big bowl, including liquid from artichoke hearts.
Marinate at least overnight.
Keeps indefinitely in refrigerator.
Slightly cooked pieces of carrots can be added for more color.
If the liquid doesn't cover the veges, I add water, oil and vinegar in proportionate amts until vegs are covered.