Marinated Mozzarella (Three Variations)
Rita1652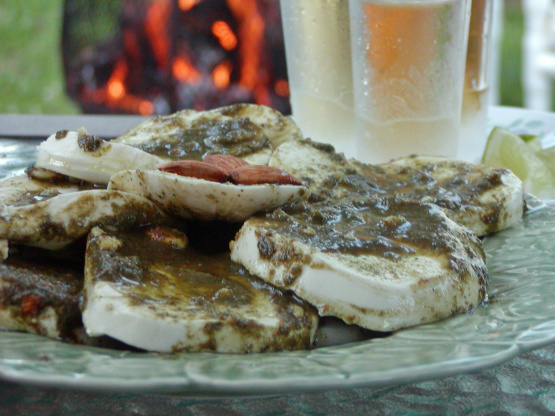 This recipe makes a Tomato, a Basil and a Yoghurt Marinade for fresh mozzarella. I have only tried the basil and almond marinade myself so far and really enjoyed it. All three were written as one recipe, so I thought I might as well post them all. From 'Meine Familie & Ich', a German food and cooking magazine. It's perfect served with toasted chiabatta or foccacia bread.

I used the Basil Marinade which was plenty for 1 pound of cheese. I used balsamic vinegar. As I was making it was thinking garlic would be great in it but didn`t. And I didn`t miss it! This was wonderful 3 of us ate the whole delish pound of cheese enjoying every slice.
Tomato Marinade

1

onion, finely chopped

2

garlic cloves, minced

44.37-59.16

ml olive oil, good quality

396.89

g can chopped tomatoes

88.74

ml orange juice

29.58-44.37

ml white wine vinegar
salt, to taste
pepper, to taste

Basil Marinade

177.44

ml fresh basil (1 bundle)

14.79

ml ground almonds

59.16-73.94

ml olive oil, extra virgin

14.79

ml white wine vinegar

Yoghurt Marinade

255.14

g plain full fat yoghurt

14.79

ml olive oil, good quality

29.58-44.37

ml lemon juice
Tabasco sauce, to taste
sugar, to taste

453.59

g fresh mozzarella cheese, preferably buffalo mozzarella
For the Tomato Marinade: Heat 3-4 tbsp oil and sweat the onions and garlic until golden but not brown. Add orange juice, tomatoes and 2-3 tbsp of vinegar.
Simmer for approx 10 minutes and season to taste with salt and pepper.
Allow to cool.
For the Basil Marinade: Trim the basil and discard any stalks.
Puree the basil, almonds, 4-5 tbsp olive oil and 1 tbsp vinegar in a blender.
Season to taste with salt and pepper.
For the Yoghurt Marinade: Whisk the yoghurt together with 1tbsp olive oil, lemon juice and a couple of dashes of tabasco (to taste). Season with salt and a pinch of sugar to taste.
To finish: Divide the mozzarella into three bowls, and cover with a different marinade each.
Chill for thirty minutes.