Marinated Mozzarella Cubes
Calee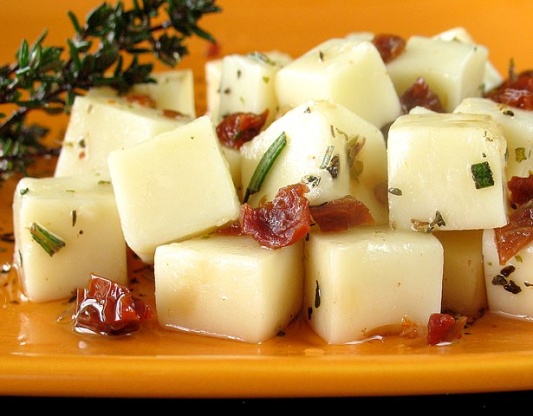 Let sit for several days to blend flavors better. Try using Sun Dried tomatoes instead of the red peppers. Serve with baguette slices, tomatoes, on top of a salad, as part of a cheese tray. Time does not include refrigeration time.

Saw this recipe and decided to try it even though the were only two reviews (although both FIVE stars) and I am so GLAD I DID... it is AWESOME!!! This is a KEEPER!!! AMAZING FLAVOR and AROMA!!! SUPER easy! At first I thought 2 TBSP fresh Rosemary sounded like a lot but it did not overpower the recipe as I thought it might. I made this to give as gifts for a change of pace over all the usual sweets given this time of year. It has a GREAT presentation in the jar and looks quite pretty and festive. We tried it on some crackers and zapped it in the micro for 20-30 seconds to melt and its like a mini pizza. It would be VERY GOOD on sliced bagette bread under the broiler...add some bacon bits or something and you have a WONDERFUL appetizer that I don't think will disappoint your friends and family. Will be making some more VERY SOON as I only made 2 batches and decided I need to make more for gifts to share. If your thinking about this recipe DON'T HESITATE. I am sure you won't be sorry you did. ENJOY!!!
In a quart jar with a tight fitting lid, layer a third of the cheese, red peppers, thyme and garlic; repeat layers twice.
In a small bowl, combine the oil, Rosemary, Italian seasoning and red pepper flakes; mix well.
Pour into jar; seal and turn upside down.
Refrigerate overnight, turning several times.
Store in refrigerator for up to 1 month.