Marinated Lemon Chicken Breasts
gailanng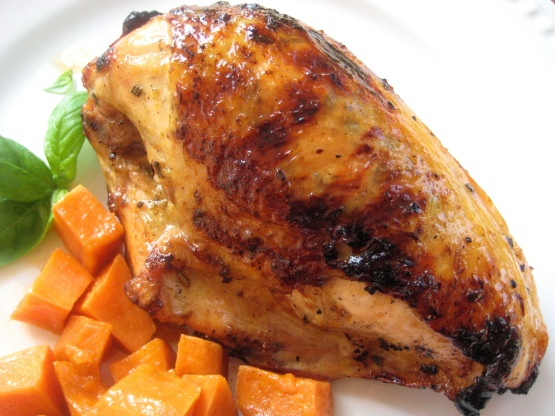 This rercipe comes from a recent issue of American Profile magazine. Preparation time does not include time needed for chicken breasts to marinate. NOTE: For some reason or other I'm not being allowed to indicate, in the list of ingredients, the amount of garlic to use, which is 3 cloves (as indicated in the directions)!
FOR THE MARINADE & CHICKEN: In a large bowl, combine 3 cloves of garlic (minced), oil, sugar, rosemary, thyme, zest, salt & pepper.
Add chicken & toss until chicken is well coated, then cover & refrigerate overnight or up to 24 hours.
FOR THE SAUCE: In a medium bowl, whisk together lemon juice, olive oil, vinegar, honey mustard, salt & pepper.
Preheat grill, then place chicken on grill rack & grill for 16 minutes, turning once.
Baste chicken with lemon juice mixture, then grill 8 more minutes, turning & basting twice, until an instant-read meat thermometer inserted into thickest part of breast registers 165 degrees F.
Discard extra marinade & basting sauce.