Marinated Lamb Cutlets With Kiwi Salsa
BarbryT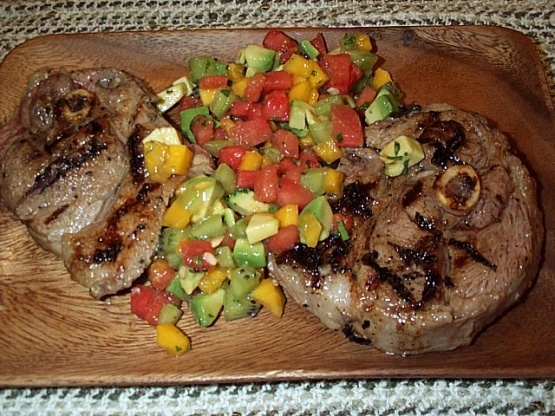 These wonderful cutlets--rib lamb chops in the States--are another example of the fusion cooking of New Zealand.

This is one of those recipes where you wonder why you never thought of making salsa with so many fruits before - as the salsa went so well with the slightly sweet and herby taste of the lamb! I did not have watermelons or papaya, they are not the season here at present - but I did have some superb Charentais Melons.....so I increased the quantity of that particular melon and added an extra kiwi fruit.We cooked the chops on the barbeque, and served them with the salsa and baked potatoes for a simple and yet very sophisticated meal - a great combination of flavours which we all enjoyed. A recipe which I will make again, using the salsa for other meats!
For the Lamb

1

green kiwi fruit, peeled
1⁄2 cup plain yogurt

1

garlic clove, crushed

12

lamb rib chops, frenched (cutlets)

for the kiwifruit salsa

3

green kiwi fruits, peeled and finely chopped
1⁄2 small papaya, peeled, seeded and finely chopped

1

cup watermelon, finely chopped (or nectarine or orange)

1

avocado, peeled, seeded and finely chopped

1

tablespoon Angostura bitters

1

tablespoon lime juice, fresh
1⁄4 cup cilantro leaf, chopped
In a food processor or blender, pulse the one Kiwifruit, yogurt and garlic until pureed but the seeds are not broken.
Place the cutlets into a large bowl.
Pour the marinade over and stir, until all the meat surfaces are covered.
Refrigerate for 2 hours, turning the meat occasionally.
Combine the salsa ingredients together in a medium bowl and set aside.
Preheat a grill.
Brush excess marinade from marinated chops. Cook the chops for 2-3 minutes on each side, until just cooked.
Serve with the salsa.