ImPat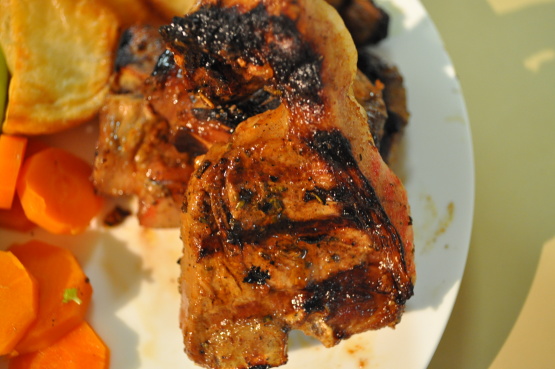 This is a simple Italian style recipe for lamb chops. Hope you enjoy!

I really enjoyed this. I marinated it overnight then cooked it on the gas barbie. I like my lamb medium rare so it was done in about 10 minutes. I let it rest covered with foil for 10 minutes then served it with baked potato and fresh zucchini. It was tender, juicy and full of flavor. Thanks for sharing. Made for PAC Spring 2010.
* Mix the garlic, rosemary, thyme,paprika,lemon juice,brown sugar,cayenne/chilli, olive oil and salt. . Rub the marinade on both
sides of the lamb chops and let them marinate for at least 1 hour in the refrigerator.
Remove from refrigerator and allow the chops to come to room temperature; it will take about 20 minutes.
* Heat a heavy steel pan (I use stainless) over high heat until hot, add the chops and cook for about 2 minutes. Flip the chops over and cook for another 2 minutes.
Continue turning chops untill your level of doneness is achieved.(try not to over cook).
Serve with mash and vegetables or oven baked chips.