Bergy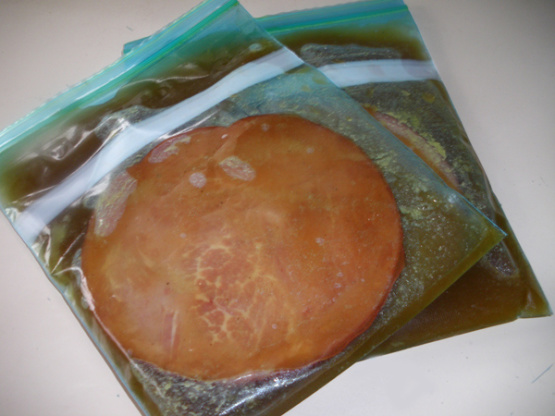 From TOH Simple & Delicious mag July/Aug 2007. Prep time is marinating time.

This was an easy way to get a tender and flavorful ham steak. Marinated for over 24 hours and did not grill, but cooked in grill pan on top of stove. The color and flavor was good. Did not have ginger ale but used Mountain Dew (which I had on hand for another recipe). Update: made this using a different type of ham steak and it was not nearly as good. We usually get the ham steaks with the little eye-bone in them but could not find them. This does not impart near the flavor or tenderness to the plain round ham steaks that it does to the "real" ones.
In a large resealable plastic bag, combine the first eight ingredients. Add ham steaks; seal bag and turn to coat. Refrigerate for 8 hours or overnight.
Prepare grill for indirect heat. Drain and discard marinade. Grill ham, covered, over indirect medium heat for 3-4 minutes on each side or until heated through.