Marinated Grilled Steak Fajitas
diner524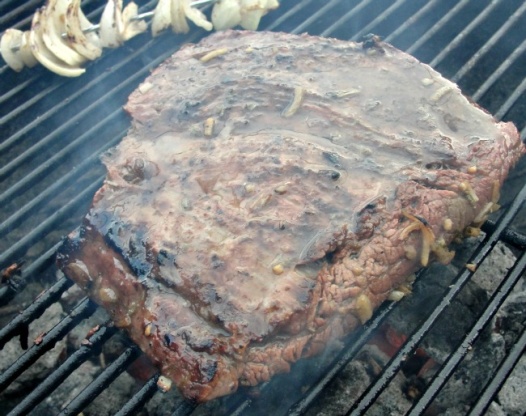 A great tasting summer main dish using garden fresh,or store bought peppers and onions. Recipe has a 4 hour marinating time.
Wow!! Very flavorful flank steak!! It looks like a ton of ingredients, but it is very easy and quick. The thing that took me the longest was squeezing out all of the lime juice. I let the steak marinate for about 6 hours, very tender!! DH basted the steak with the marinade for the first flips then we discarded it. DH doesn't care for the peppers so I just grilled some sliced onions on a skewer with the meat, easy clean up that way!! Thanks for a tasty new marinade!! Made for Please Review My Recipe Tag Game.
In a large , reusable plastic bag, combine the soup mix,oil,lime juice, water, and seasonings, shake, then add the steak.
Seal bag, turn to coat, and refrigerate for atr least 4 hours.
Drain and discard marinade.
Grill, covered over medium high heat for 4-7 minutes on each side until meat reaches desired doneness.(medium rare 145 degrees.medium 160 degrees.or well done 170 degrees.
In a small skillet, saute onion and peppers if desired in oil for 3-4 minutes.
Slice meat into thin strips across the grain, and place on tortillas.
Top with vegetables, and roll up.