Marinated, Grilled London Broil
Bergy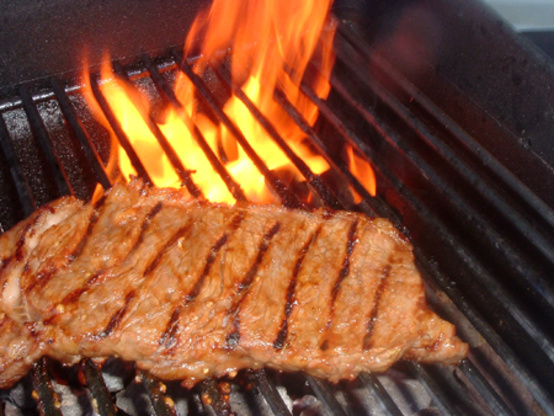 I love this because I am a huge fan of grilled steak and kind of made this up as I went along. Serve with seasoned potato wedges, a simple salad and a green veggie. Don't forget the garlic bread as well. YUM!

I thought I'd try it because it was similar to what we normally do with London Broil... We use McCormick's Montreal Steak seasonings rubbed on first tho and it seems to be more flavorful. I also, use A-1, italian dressing, and either beer or red wine. My 3 yr old who rarely eats meat, will eat it this way. and it ALWAYS has to be grilled in my opinion.... This was tastey, but I think I will stick with my own concoction.
1 -1 1⁄2 lb top sirloin steak (London Broil)

1

teaspoon hot sauce (I prefer Tabasco)

2

heads garlic, minced fine (save six little cloves)
1⁄2 cup red wine vinegar

1

small Spanish onion, chopped fine

2

sprigs green onions, sliced on the bias finely

1

(12 ounce) bottle A.1. Original Sauce

1

teaspoon pepper
1⁄2 teaspoon salt
Get the freshest, leanest piece of top sirloin you can find (Black Angus is most recommended). Make sure it is deep red in color.
Place your sirloin in a deep rectangular pan.
LIGHTLY score the meat with a very sharp knife on both sides to make sure marinade gets into meat.
Start by sprinkling both sides of meat with the salt and pepper.
Stuff a few cloves garlic all over meat by cutting little slits.
Pour in red wine vinegar, A1 sauce, Tabasco sauce; add the chopped spanish onions. (Reserve the green onions for later as a garnish).
Stir and flip the meat to coat evenly on both sides.
Cover pan with foil or plastic and let sit in refrigerator for at least three hours.
Preheat charcoal or gas grill for 20 minutes on high setting.
Place your marinated steak on the hot grill and place a small weight on top.
Grill for about 1 1/2 minutes, then flip it over and do the same for the other side.
Reduce heat on grill to a low medium setting, and turn every minute or so, taking care to grill so that you get charcoaled score lines in a criss-cross pattern on the steak.
Do NOT over cook!
The steak should be pink inside-not brown!