3 Reviews
oh so good! I use all the optional seasonings listed in the ingredient list. One of my favorite marinades for grilling.

What a delicious marinade!! I will be using this again and again. I had a nice thick flank steak and placed it in a ziplock with the marinade the night before, so it had a good 10 hours to marinade. My husband grilled the meat medium and we sliced it up. Lots of juices, wonderful flavor. Thanks for posting.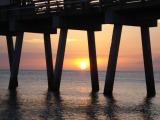 Great marinade! I marinated the steak for about 7 hours. I did not use the dill weed or celery seed. Excellent and easy!
Marinated Grilled Flank Steak