Marinated Grilled Chicken
diner524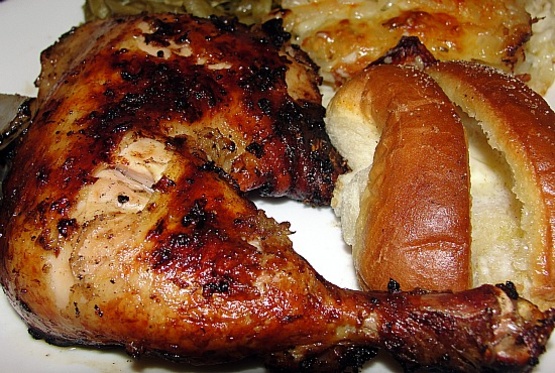 This recipe uses a very economical piece of meat and raises it to new heights courtesy of seasoning and smoke! Another recipe I cook on the grill....love to cook outdoors!! Add your favorite barbecue sauce during the last 10 minutes of cooking if you want to....I like a great white sauce myself! Prep time does not include the 24 hour marinating time!
Well I really wanted to love this recipe, as I love every single ingredient! I went with the lemon juice, just love it, and did use fresh squeezed lemon juice. I used two chicken quarters and 3 boneless skinless chicken breasts (for 19 yo DS and his GF) and let it marinade over 24 hours. I think this would have been excellent if I hadn't added the equal amounts of water and lemon juice. I think the water totally diluted the lemon juice and spices. I think maybe using the vinegar, which I think is stronger in flavor, and with the water, would have been the way to go. I would definitely try this again but leave out the water. We still enjoyed the grilled chicken with all our sides.
Mash the garlic with salt in a small bowl using a fork -- if easier, use a garlic press to mince the garlic. Stir in the remaining ingredients, except for the chicken. Mix well and pour over the chicken in a large ziplock bag or container. Cover and refrigerate for 24 hours.
Grill the chicken over low coals for 45 minutes or until done. Turn and baste with the marinade frequently.
If you want to, add barbecue sauce during the last 10 minutes -- I like to use white barbecue sauce with this recipe, but only add a bit in the last 5 minutes, serving the rest at the table.