Marinated Green Bean & Red Potatoes Salad
Bayhill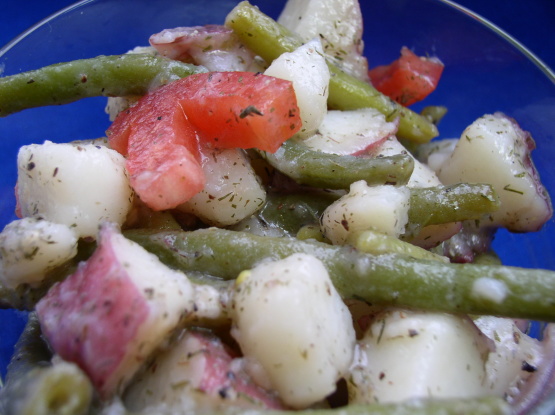 This is my favorite summer salad recipe. I make the day before because it tastes better the second day when the flavors blend (and they blend nicely!). It's a very pretty salad that you'll be proud to serve.
I'm jumping on the bandwagon about how good this is. I got a late start, so it only marinated for about 4 hours before we had it for supper and it was great. I know it will be even better tomorrow in my lunch. Thanks for a great recipe to use both the green beans and the red potatoes I got this week!
Bring water to boil in 2 Dutch ovens (can do separately if you only have 1).
Add green beans to one; reduce heat to medium& cook, covered, 8 minutes or until beans are crisp-tender.
Remove beans with slotted spoon.
Add potatoes to other Dutch oven.
Cook, covered, 12 to 15 minutes or until potatoes are tender.
Remove potatoes; drain.
Combine vinegar, oil, lemon juice, garlic, honey, salt, dill weed, thyme, and pepper in medium bowl; whisk to combine.
Add green beans and potatoes; stir to combine.
Cover and refrigerate up to 2 days, stirring occasionally.
To complete recipe, garnish with tomato wedges.