Marinated Goat Cheese With Garlic, Basil and Orange Zest
BarbryT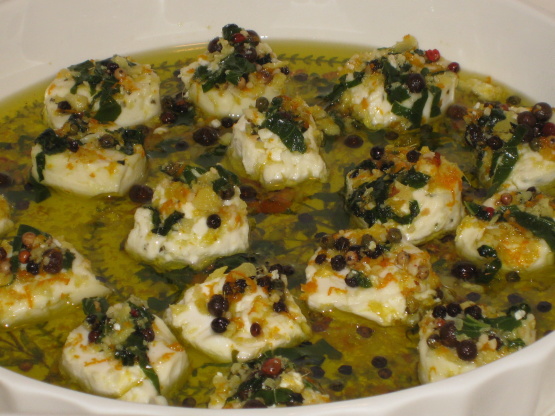 This is a great appetizer. It is easy and fast and can be made up to 4 days before serving. I like to use a mixture of white, black and red peppercorns. Cook time does not include time to marinate. I always get asked for the recipe. Very pretty presentation. From Hugh Carpenter.

I've made this recipe for years and have gotten rave reviews. I cheat a bit and use peppercorn mix from Williams Sonoma as it already has allspice berries in it.
Leftovers (when there are some) are good tossed with hot pasta.
Cut goat cheese into 1/2 inch thick slices. Arrange the slices in a single layer in a pie plate ot baking dish.
In a small saucepan, combine the olive oil, peppercorns and allspice berries.
In a small bowl, combine the garlic, ginger, basil and orange zest.
Place the saucepan over medium-high heat and cook until the peppercorns begin to pop, about 2 minutes.
Remove the pan from the heat and immediately stir in the garlic mixture. After 5 seconds of stirring, pour the hot mixture over the goat cheese.
Marinate in the refrigerator at least 3 hours.
To serve, transfer the chilled cheese to a serving plate. Serve at room temperature with crackers.