Marinated Goat Cheese Rounds With Crostini
Ms B.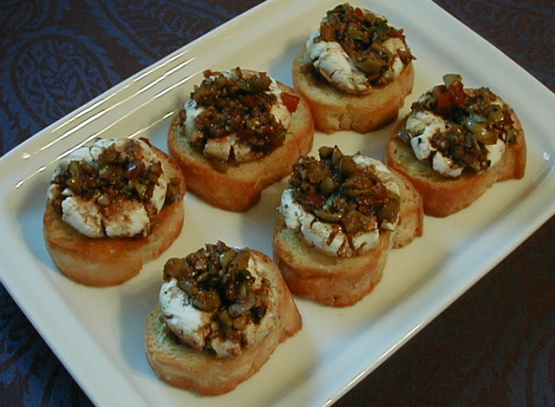 This is a simple appetizer that is meant to be eaten at leisure with friends! You can make crostini out of day old bread, and you can use any flavor of bread you like, but don't make them too far ahead, they are best served warm. Cook time is marinating time. From Cooking with Caprial cookbook.

Top Review by Marie
WOW, Sharon, this is sooo good! I made this the day before so the flavors would really develop. Only thing I did different was to cut the thyme back to one teaspoon of dried - all I had on hand. This is the type of thing I like to eat for lunch. I could care less about a sandwich made with luncheon meats. This is a real keeper and I thank you so much for posting it.
Goat Cheese Rounds:.
Roll the cheese into a 4" long log. Slice into 1" thick rounds and place in a shallow dish. In a small bowl, whisk together vinegar, garlic, thyme, pepper, olives, and olive oil until well blended. Pour over the goat cheese and marinate, refrigerated, for 2 hours to 1 week. Before serving, let warm to room temperature, about 30 minutes.
Crostini:.
Preheat the broiler or grill. Drizzzle the bread with olive oil, and grill or broil until golden brown. When the crostini come out of the oven or off the grill, rub them with a bit of the minced garlic. Then cut in half on the diagonal. Serve the warm crostini with the goat cheese. Enjoy!