Marinated Fruit With Coconut Dressing
2Bleu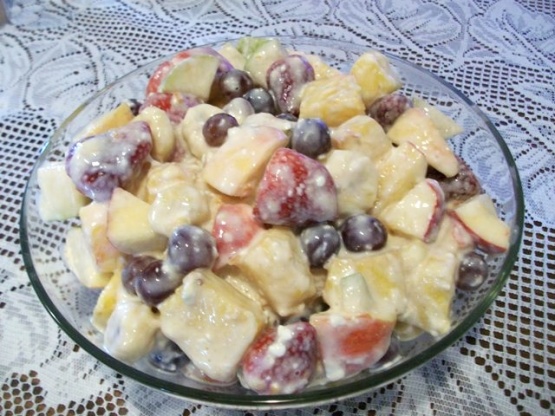 Bird created this very simple and beautiful recipe with great flavor that you can be made several hours before serving. You can opt to grill the fruit on skewers for k-bobs or just mix and serve in a decorative bowl. For the dip, I simply added shredded coconut to my sister's wonderful Kathy's Fruit Dip, creating a 'family' recipe. :)

Made for dinner, ..we enjoyed this, I made this as a fruit salad last night, other than cutting the recipe in half, used cream cheese, and a red delicious apple we were pleased. The company enjoyed this as they were impressed with the dressing too. Great tasting salad !!! Made for PRMR tag.
FRUIT: Place fruit gently into a large bowl or ziploc bag.
MARINADE: Mix all ingredients well and pour gently over fruit. Cover or seal bag and refrigerate for 1-3 hours.
DRESSING: In a medium bowl, using an electric mixer, beat cream cheese until fluffy. Beat in remaining dressing ingredients and mix well. Cover and chill 1-3 hours.
AS A FRUIT SALAD: Drain fruit from marinade (discard marinade). Mix fruit together with dressing and serve immidiately.
AS KABOBS; Drain fruit from marinade (discard marinade). Using 20 wooden skewers, alternately arrange fruit onto skewers. Place on grill and heat for just a few minutes, turning one halfway through. Serve with dressing on the side or brush with dip the last minute of grilling.