diner524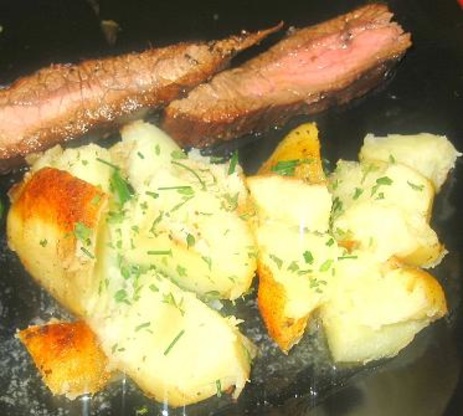 Just a small amount of this aromatic marinade adds pungent flavor and incredible tenderness to the flank steaks. Taken from Southern Living "Low Fat, Low Calories" cookbook. Cooking time does not include overnight marinating.
The day before grilling, I made the marinade and followed directions as stated. Last night I grilled the flank steak and served it with recipe #204735. This was so flavorful and I liked that there was no added oils or sugar to the marinade. Thanks for a great recipe.
Make shallow cuts in steaks diagonally across grain at 1-inch intervals. Brush both sides of steaks with mustard. Place steaks in a large shallow dish.
Combine wine and next 3 ingredients; pour over steaks.
Cover and marinade in refrigerator 8 to 12 hours or overnight, turning steaks occasionally.
Remove steaks from marinade, reserving marinade.
Place reserved marinade in a small saucepan; bring to a boil. Remove from heat and set aside.
Place steaks on a rack in a broiler pan coated with cooking spray. Broil 5 1/2 inches from heat (with electric oven door partially open) 5 to 7 minutes on each side or to desired doneness, basting with reserved marinade.
To serve, cut steaks diagonally across grain into thin slices.