Marinated Flank Steak With Mustard Sauce
Derf2440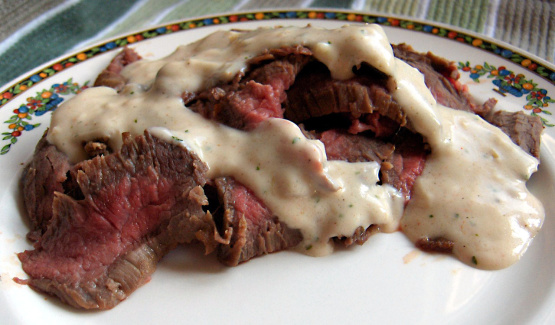 Works well for a dinner party, barbecue party or Sunday dinner for the family. Serve with warm corn muffins/bread and salads, goes well with a rice/veggie salad.You'll get many compliments.

Top Review by Lorac
Excellent! I rarely use the phrase "to die for" this marinade fits the description. While the Mustard Sauce delicious, it was soon abandoned. No one wanted to mess with the superb taste of the marinaded steak. I made the recipe as directed and marinated the steak for 6 hours. I served the steak with your Tomatoes Provencale and chia's New Potato Salad. Thanks Dorothy, this recipe is a treasure!
Combine first 8 ingredients, for marinade, in a large, shallow non-mental dish; stir well.
Add steaks, turning to coat.
Cover and marinate in refrigerator at least 2 hours or overnight, turning steaks occasionally.
Steaks can be marinated in a zip lock bag, remove air and seal tightly, turn bag now and then.
Remove steaks from marinade and discard marinade.
Place steaks on a rack coated with vegetable spray and place rack in a roasting pan.
Broil 5 inches from heat- 4 minutes on each side or to desired degree on doneness.
OR barbecue to your liking.
To serve, cut steak diagonally across grain into thin slices. Serve chilled or at room temperature with mustard sauce.
Mustard Sauce: Combine first 9 ingredients in a small bowl; stir well. Cover and chill thoroughly.
Garnish with fresh parsley if desired.