diner524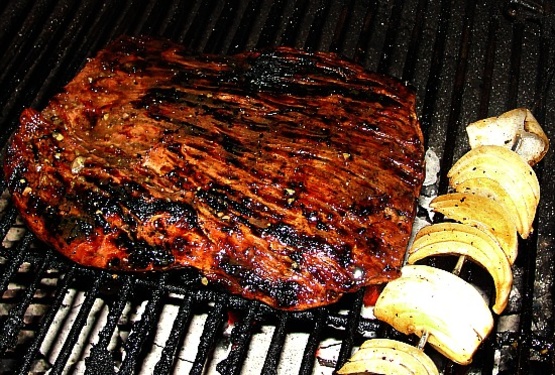 A recipe from the Comfort Food diet cookbook of Taste of Home. It was so yummy. My steaks were in the marinade maybe only 5 hours.
This was wonderful and so flavorful!!! So quick to get the marinade ingredients together, no cutting of anything. I let mine marinade for about 6-7 hours. The little brown sugar helped to get a little char on the outside, but ours was perfectly grilled to medium doneness. All four of us really like this recipe and will be making it again. Thanks for sharing the recipe. Made for PRMR Tag Game.
In a large resealable plastic bag, combine the first seven ingredients; add the steak. Seal bag and turn to coat; refrigerate for 6 hours or overnight.
Drain and discard marinade. Using long-handled tongs, dip a paper towel in cooking oil and lightly coat the grill rack. Grill steak, covered, over medium heat or broi 4 inches from heat 9-11 minutes on each side (for us it was maybe 8 minutes total (on the bbq), it depends on the thickness of your steaks).
To serve, thinly slice across the grain.