Marinated Feta Cheese With Capers and Olives
luvcookn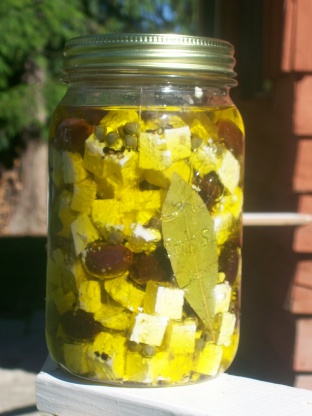 This a very tasty appetizer, served with toasted Italian bread and chopped tomatoes. I always have a jar of this in the refrigerator for when I have unexpected guests.

Wonderful!!!! It was hard waiting for the 2 weeks but well worth it. Served this to guests who raved about it. I took your advice and served with toasted french baguette and chopped tomatoes. Great to have on hand! Thank you for sharing, Pink! Made for KK`s Greek Forum.
Cut feta cheese into cubes. Slice garlic. Place peppercorns and corriander seeds in a mortar and crush lightly with pestle.
Pack the feta cubes into a large preserving jar with bay leaf, interspersing layers of cheese with garlic, crushed peppercorns and corriander, capers, olives and the fresh oregano sprigs.
Pour enough olive oil in jar, to cover. Close tightly and leave to marinate for 2 weeks in the refrigerator.
Lift out the feta cubes and serve on toasted bread with chopped tomatoes and a little of the flavored oil.