awalde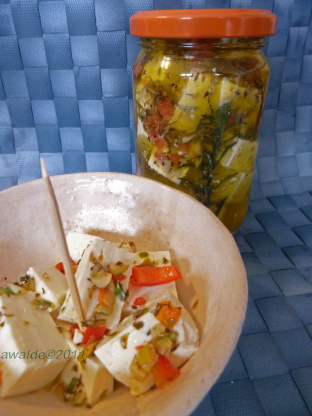 This is a great recipe for marinated feta. Try to chop the red bell pepper and the olives as small as possible. Together with the green herbs the feta looks really colourful and tastes delicious. The recipe is adapted from a Swiss cooking magazine called 'Le Menu' (September 05). I changed the oil as I prefer olive oil to rapeseed oil. But feel free to use rapeseed oil if desired. The stated amount serves six as an appetizer. Marinating time of 24 hours is included in the cooking time.
Mix all the ingredients for the marinade.
Put cubed feta and marinade into a shallow plastic container with a tight fitting lid. Cover with the lid and marinate in the fridge for 24 hours or more. Turn the container lid-side down after a few hours to make sure the feta gets marinated evenly. You may want to turn your container a few times. (The olive oil may thicken in the fridge, but turn into liquid again at room temperature).
SERVE:You may want to stick a toothpick into every feta cube or just serve it as it is. Serve with (toasted) slices of baguette.