Marinated Daikon and Carrot Salad (namasu)
gemini08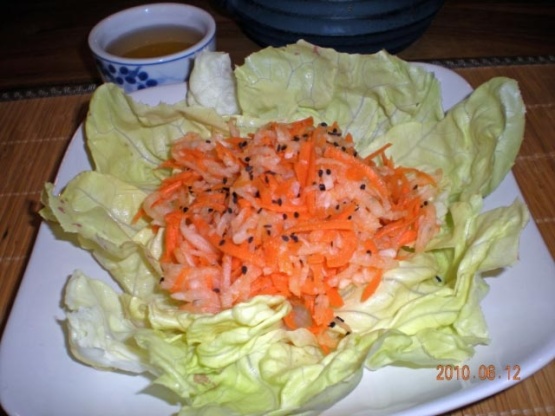 I've been making this for years. I took a recipe and changed it, it had 30g of carrots, and I like about equal weight of carrot and daikon. I make this using my zester which is nothing like a Microplane zester. It's small, hand held tool (with 6 holes at one end) which you drag down the food to get long thin ribbons. Works really well for these Japanese salads.

I had this years ago at a Japanese restaurant that has since closed. The only thing I did differently was add a bit of sliced green onions since I love them so much and garnished with toasted sesame seeds. My son saw it in a serving bowl, dug right in and thought the old place we used to frequent had opened again! Thanks so much for posting this recipe.
Cut the carrot and daikon into the thinest strips you can; I use a zester to do this and it works really well.
Sprinkle the vegetables with the half teaspoon of salt and allow to stand in a colander 10-15 minutes or until limp.
Transfer to a bowl.
Mix the remaining ingredients together and pour over the vegetables.
Taste for salt.
This can be used immediately, but marinating it for 24 hours will improve it; just keep it well covered as the radish can be a bit"smelly'" in your fridge.