Marinated Chinese Chicken Salad
Nimz1466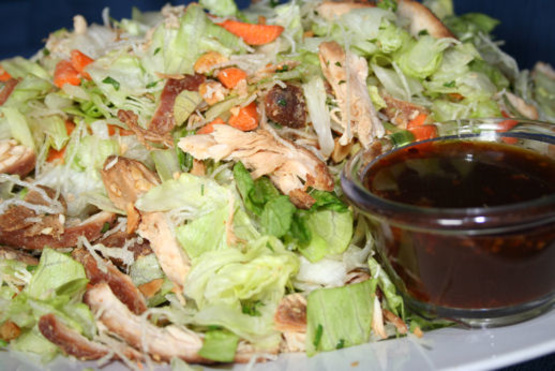 Delicious and easy to prepare

This was very tasty, however a little too spicy for us. I think next time we will use less red pepper flakes. We also think next time we will cut down on the cilantro since it seemed to be a little overwhelming for our tastes. Instead of chicken breasts, I used grilled chicken strips which made it easy for putting it with a salad. Overall very refreshing salad on a hot summer night. Thanks for posting.
Mix marinade ingredients in a small bowl.
Place chicken in slow cooker and pour marinade over chicken, coating each piece well.
Cover and cook on low 6 to 7 hours or on high for 3 to 4 hours. (Depending on how large your chicken breast are. Mine were small and were done in 5 1/2 hours on low).
Remove chicken from slow cooker and cool.
Reserve juices and place in a small sauce pan and simmer for 5 minutes then strain if desired. (I didn't strain it but you might want to if you have excess residual.).
Shred chicken into bite-sized pieces.
In a small bowl, combine the dressing ingredients with 1/2 cup of the juice from the slow cooker.
In a large serving bowl toss together the shredded chicken, lettuce, carrots, peanuts, cilantro, and noodles.
Just before serving, drizzle with the salad dressing.
Toss well and serve.