Marinated Chicken Brochettes
IngridH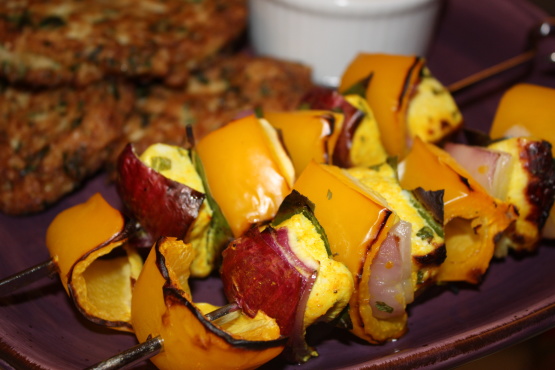 This is a Low fat recipe by Delia smith. No need for oil the chicken is moist and tender and great flavour. Good served with a fresh coriander (cilantro) chutney. I served mine with a low fat coleslaw, boiled rice cooked in vegetable stock with fresh coriander and spring onions and a vegetable curry.

I really liked these! I had to sub milk plus vinegar for the buttermilk, and chili sauce for the chile, but otherwise I made as written. The turmeric gives a beautiful yellow color to the chicken, and the bay leaves a very fragrant, distinct flavor. I almost left the bay out, as my plant is nearly dead, but I was able to scavenge a few good leaves, and boy, am I glad I did! This would not be the same without it. The leaves charred to ash on the ends of the skewers, but imparted such a lovely flavor and fragrance! If nothing else, I'll use this marinade again, as the chicken was very tender and well flavored. Too wet and windy to grill today, so I broiled on the second level of the oven for 6 minutes on each side. Thanks for posting a great recipe!
To make the marinade.
Crush garlic with 1/2 teaspoon of salt until it becomes a puree. Add the grated ginger. Chop the chilie and coriander add to ginger and garlic with turmeric and black pepper. Mix with the buttermilk.
Now cut each breast into five pieces, then add to marinade and mix. Cover the bowl with clingfilm and place in the fridge for a few hours or overnight.
30 minutes before cooking soak the wooden skewers for 30 minutes in hot water.
Preheat the grill to its highest setting for 10 minutes.
Dry the skewers and thread half a bay leaf on to each one, then a piece of chicken, a piece of onion and a piece of pepper. carry on alternating the bay leaf , chicken, onion and pepper until you have threaded five pieces of chicken on each skewer, finishing with half a bay leaf on each. Season with salt and pepper and brush the vegetables with a tiny amount of oil. Lay the brochettes on the grill rack about 4 inches from the heat source. Brush liberally with remaining marinade and grill them for 10 minutes, before turning them over and grilling for a another 10 minutes. Brushing with more marinade as they cook and watching them carefully so they do not burn.