Marinated Chicken Breast With Coconut Curry Sauce
JustJanS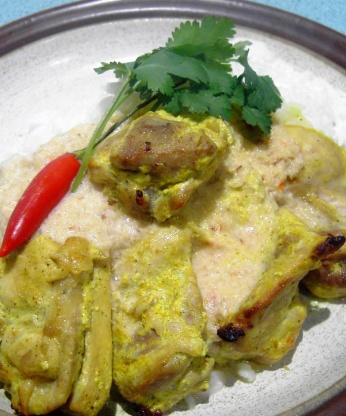 This is different from any other curry I've made in that the chicken is first marinated, and not cooked in the curry sauce itself. The contrasting yet complementary flavors of the marinade and sauce make for an unusual and attractive dish. This pairs especially well with the "Cardamon and Fennel Flavored Rice" recipe which I've posted as well. Preparation time includes 2 hour marinating time. Do not marinate this overnight as the lemon juice will break the fibers of the chicken down too much.
My 17 year old daughter made this for dinner last night along with couscous and asparagus spears. It was fantastic! We had plenty of sauce for not only the chicken but for the couscous as well. We couldn't find the lemon grass root, but she had everything else in there. The flavor was amazing and it really wasn't all that complicated to make. This is a definite make-again!
Prepare marinade by mixing in a shallow dish the yogurt, lemon juice, garam masala,and turmeric.
Add the chicken breasts and coat them well with the marinade.
Cover, and refrigerate for 2 hours.
Pre-heat oven to 400°F.
Heat the olive oil in a frying pan and brown the chicken on both sides.
Season with salt and pepper to taste.
Transfer chicken to a small roasting pan and cook in the oven for 20 to 30 minutes, or until juices run clear.
As this is cooking, place the chili, lemon grass, coriander seeds, lime juice, shallot, garlic and ginger in a small food processor and blend into a paste.
Heat the peanut oil in a small sauce pan.
Add in the paste and gently fry for 5 minutes, stirring often.
Add in the coconut milk and mix well.
Bring to a boil, stirring, then reduce the heat and simmer until the sauce reduces and thickens.
Remove the chicken to the serving plate and spoon the sauce over the top.
Serve with rice.