Suzie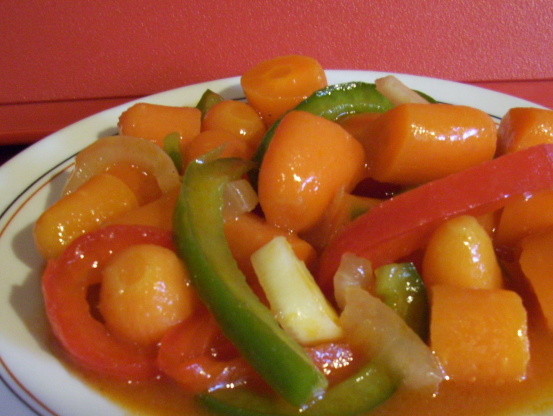 This is a very old recipe that was handed down to my Mother from her aunt, who we called "Aunt El", and who has long since passed away. I just found the recipe as I was packing up boxes in preparation for a major move. I have no idea how many it serves because a "bunch" of carrots is anybody's guess. I think of it more as a condiment or something to serve at a barbecue. If Splenda is used for the sugar it can be a very low calorie dish. Also, the ingredients are generally on hand, so it's pretty economical. Thanks Aunt El!

Top Review by Suzie
Made for Diabetic Forum's POOL PARTY, May 2010. These had the honor of being served at our first family bar-b-q of the 2010 season! As you can tell from my photo, I took creative license, using a bit of red pepper as well as cut up baby carrots. I also used cider vinegar as a personal preference. These are such a delight and really brighten up a table. Great for pot luck, picnics, etc. Thanks, Norma, for posting.
Cook carrots until crisp tender in salted water.
Drain Well.
Heat remaining ingredients, except onions and green pepper, until sugar has dissolved and mixture is well blended and hot.
Pour over carrots.
Add onion and green pepper.
Combine well.
Refrigerate at least 24 to 48 hours.