Zurie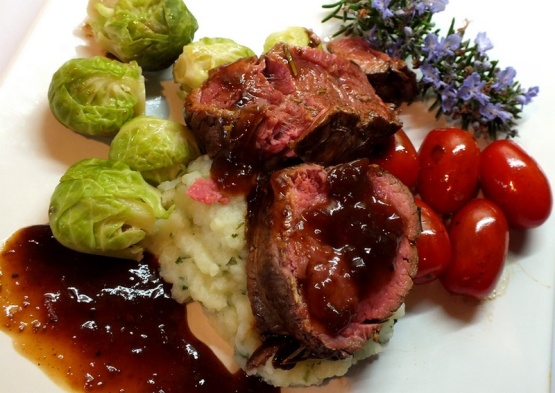 From Womans Day. Time does not include 4 hours marinating time.

Top Review by Zurie
Great, simple recipe! I could not find cherry tomatoes-on-the-stalk, so used the small plum tomatoes. The recipe is straighforward, and I only seared the fillet on all sides in a non-stick pan (sorry, would have loved to grill but that was not possible). We like our fillet to be pink-rare, as on the photo. Thanks for a great but easy recipe!! Would love to do this on the Weber!
Place the beef fillet into a non-metal dish.
MARINADE. In a jug, combine all ingredients. Season to taste.
Pour marinade over beef, turning to coat. Cover and chill for at least 4 hours, or overnight, turning occasionally. Remove from the fridge 30 minutes before cooking.
Preheat the flat and grill plate of a covered barbecue on high. Remove meat from marinade. Barbecue for 5 minutes on grill, turning to brown and seal all sides. Transfer to a large heavy-based roasting pan.
Turn off the heat on the flat plate and scrape clean. Place the roasting pan on the flat plate. Reduce grill heat to medium, close lid and cook beef for 45 minutes for medium rare. Remove to a board, cover loosely with foil and rest for 15 minutes before slicing.
While the meat is resting, place the tomatoes in the roasting pan and cook
in the covered barbecue for 15-20 minutes, until starting to collapse. Serve beef sliced with tomatoes and other accompaniments of choice.