Marinated BBQ Pork Tenderloin
Rita1652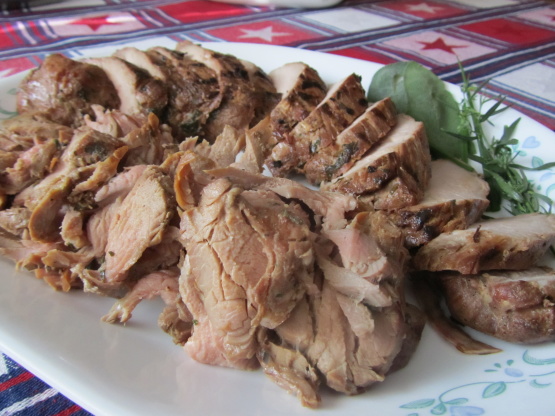 My girlfriend passed on this recipe a couple of years ago. It has become a favourite in this house.

This marinade is here for flavor, pork tenderloin doesn`t need any tenderizing. And It does the job! You have the acidity from the lemon which helps penatrate the flavors into the meat. I did add olive oil because it also helps the herbs penatrate the meat, and helps hold moisture in during cooking and keeps the meat from sticking to the grates of the grill. Love all the herbs fresh picked from the garden. I did up the garlic to 4 cloves. Marinaded for 6 hours. Thanks!
Place tenderloins in large zip lock bag.
Mix all other ingredients together in a bowl and pour into bag.
Give a squeeze to cover tenderloins and refrigerate overnight.
Barbeque on med-low heat.
Baste with leftover marinade.
Will take about 20 minutes.
Remove, tent with foil and let meat rest for 10 minutes before cutting.