mesama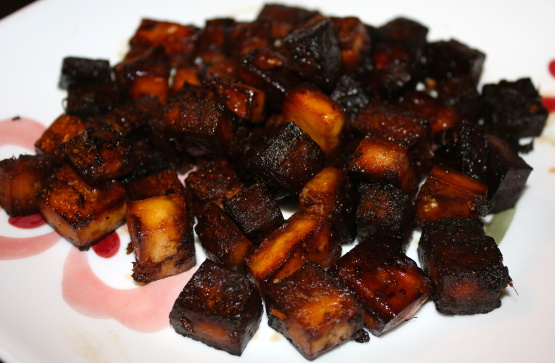 I am addicted to baked tofu!! Thank you Mollie Katzen and The Enchanted Broccoli Forest for the excellent marinade recipe! The tofu never lasts long enough to make it into a stir-fry at my house. I end up eating it by itself. I love it hot or cold. And of course absolutely everything to do with this recipe can be adapted to taste or what you have in the kitchen. Enjoy!

This is a GREAT recipe, **BUT** having used similar recipes in the past, you must add water- way too salty otherwise. I used a 6.5" square x 3" deep plastic container, added the cubes and marinade and then enough water to cover the cubes. I also added a few shakes of fish sauce.
Drain tofu and cut into 1" cubes.
Mix all other ingredients together except olive oil.
Pour marinade over tofu and cover.
Refrigerate overnight or longer (I've left it for 3 nights).
Lightly grease baking pan or sheet with olive oil.
Arrange tofu in single layer on sheet, making sure not to forget the garlic and ginger from the marinade dish.
Bake at 350 degrees for 50-60 minutes, flipping tofu at least once during the process, until brown and slightly crispy.