Marinated Asparagus and Strawberry Salad
gemini08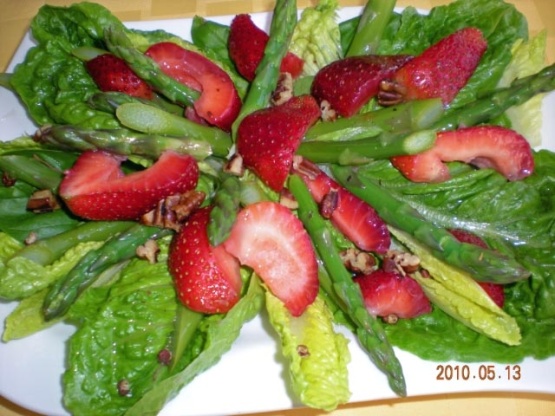 A lovely and elegant spring salad when strawberries and asparagus are at their peak. Makes a satisfying lunch when topped with grilled shrimps or scallops. Found the recipe in a local newspaper on my last trip to Austria.
Quarter strawberries, mix with 2 TBS of agave nectar or honey and let macerate for 1/2 hour or until drawing juice.
Prepare asparagus by breaking off tough ends, cut on the bias into 2" pieces.
blanch in boiling lemon water, stems first, add tips after 2 minutes, blanch for one more minute, remove from heat and plunge into ice water to maintain color, do not overcook.
Prepare vinaigrette by whisking 2 TBS of water, oil, vinegar, salt, pepper, honey and a TBS of the strawberry juice together, add asparagus and marinate for at least 1/2 hour.
Prepare 4 plates with salad greens,
put the marinated asparagus on the salad greens.
Top with the strawberries.
sprinkle with chopped nuts.