IngridH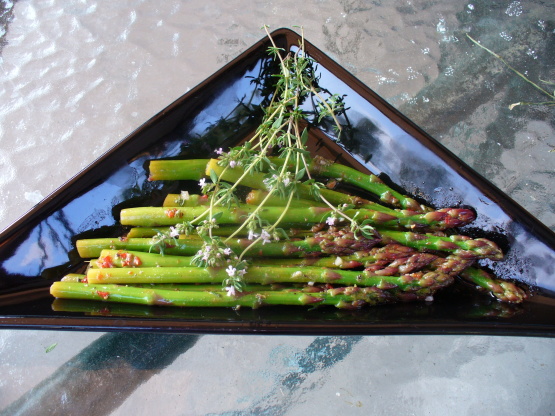 This is my MIL recipe for marinated asparagus that she served each year at Passover. I now make it often as a side dish to our main course, and although hubby had it a lot growing up he still loves it. Update: This recipe can be served hot or cold.

This was alright, but we weren't wowed by it. I used sherry vinegar, olive oil, and added fresh chopped thyme to the marinade. I think there should be some onion or shallot in the marinade, I think that was the flavor we were missing. We served this cold, along with a steak sandwich and fries. I really liked how easy this was to put together. I made the marinade in a zip top bag, then added the drained aspagagus, and tossed in the refrigerator. This would be agreat dish to take to a BBQ or picnic, since it is made ahead, and can sit out without going bad. Thanks for posting. Made for ZWT5 by one of the Cooks with Dirty Faces.
In a large pot bring 1 inch of water to a boil over medium-high heat.
Add asparagus, laying them flat, and simmer about 5 minutes or until crisp tender. Remove the asparagus and run them under cold water to stop the cooking process.
Drain and place the asparagus in a shallow serving dish.
In a glass jar combine oil, vinegar, pimientos, parsley flakes, salt, black pepper, dry mustard and garlic.
Cover tightly and shake until well combined, pour over the asparagus and refrigerate at least 24 hours before serving.