Marinated and Sauteed Fish
Bergy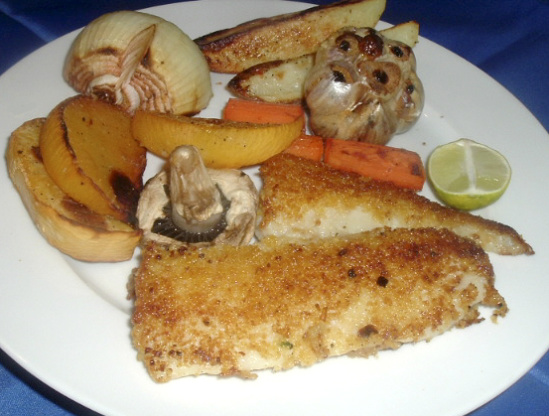 I made this up a couple weeks ago from other recipes. My hubby loved it!!

Top Review by Bergy
We enjoyed the flavor from marinating the fish in the wine/lime, garlic & mustard. I used a Basa filet, cut the recipe to 2 servings. Coated the filet with cornflake crumbs used no egg, no butter only 2 tbsp of lite Olive oil to fry them Thanks Jessica K for posting this tasty recipe
Mix marinade ingredients in glass bowl or pie plate and then add fish. Marinate for no more than 2 hours, you don't want ceviche!
When ready to make fish put skillet on medium heat with oil and butter.
In one bowl beat egg. In another bowl put in bread crumbs.
Dip fillets, one at a time, in egg mixture, then roll in bread crumbs. Discard marinade. Then saute in skillet. Don't overcrowd them! I usually only have room for 2 fillets at a time. Fry 5 minute one side then flip. Fry 5 minute on other side. Fillets are done when flake easily with a fork. flip one more time and cook each side 2 more min if unsure.
If butter runs low add more, maybe 2 more TB. Add a splash of wine to the skillet if u want.
Repeat with other fillets. Enjoy!