Marinated and Crumbed Pork Schnitzel
Peter J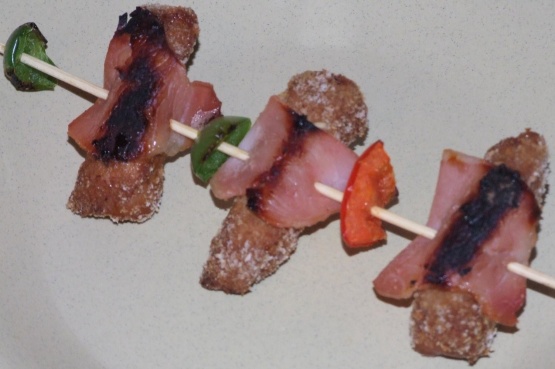 The marinating of the meat in this recipe gives added flavour. Cooking time does not include marinating time.

I have made this three times now and liked it every time but the third time was the charm because I actually followed the recipe as written. The first time I marinated it all day and that was too long (over flavored the meat), the next time I marinated for two hours and that still seemed to over season the meat, so I finally followed the directions and marinated for an hour and that was just perfect. My husband especially loves schnitzel and this recipe sends it over the top for me. I did use panko instead of breadcrumbs.
1⁄4 cup soy sauce

1

lemon, juice of

2

garlic cloves (peeled & crushed)

4

slices pork schnitzels

1

egg

2

tablespoons milk

1

cup dry breadcrumbs (approximately)
oil (for frying)
Mix together the soy sauce, lemon juice and garlic in a shallow dish.
Add meat to dish.
Marinate for at least 1 hour if possible; make sure all sides are coated.
Whisk the egg and milk together.
Spread out the breadcrumbs in a shallow dish or tray.
When ready to cook, dip meat slices in the egg mixture, shaking off the excess before laying the slices in the breadcrumbs.
Coat each side well with the crumbs.
Lay out on another plate/tray and put in refrigerator for approximately 20 minutes to help set the breadcrumbs.
To Cook:.
Use enough oil to coat bottom of large frypan.
Heat until almost smoking.
Fry schnitzel quickly on both sides. You may have to fry in batches depending on the size of the pan.
Drain on paper towels.
Serve with a wedge of lemon to squeeze over top if desired.