Marinara Turkey Meatballs
megalady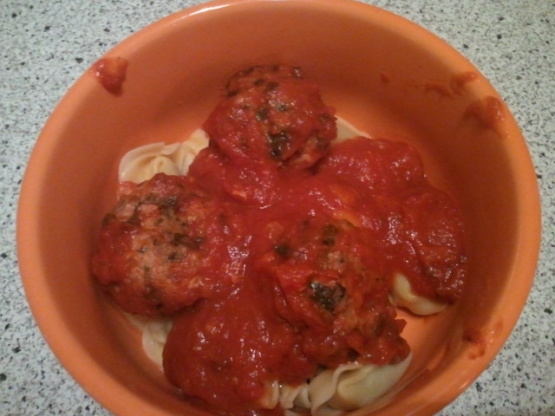 I found this recipe in Taste of Home's Light and Tasty magazine. It was pretty easy to do and very tasty. You might want to add salt to the meatballs. I prefer more salt rather than less, but it's not necessary.

Very Yummy! Moist and a good flavor. Even my husband like them.
I found this looking for dairy & egg free meatball options for my daughter (allergies). As long as you choose your breadcrumbs correctly, this covers it.
I followed all ingredients to the tee. Only thing different was that I baked them in the oven at 350 for about 12 minutes (until 165). I am too nervous to broil anything. Finished them off in the sauce.
Combine spinach, bread crumbs, onion, parsley, garlic, nutmeg, allspice, and pepper. Crumble turkey over mixture.
Mix well.
Shape into 24 meatballs.
Place on broiler pan coated with cooking spray.
Broil 4-6 inches from heat for 8 minute.
Turn; broil 3-5 minute longer or until meat is no longer pink.
Transfer meatballs to a large saucepan or Dutch oven.
Add spaghetti sauce and bring to a boil.
Reduce heat and simmer until sauce is warm.
Cook spaghetti and drain.
Serve.