Peter J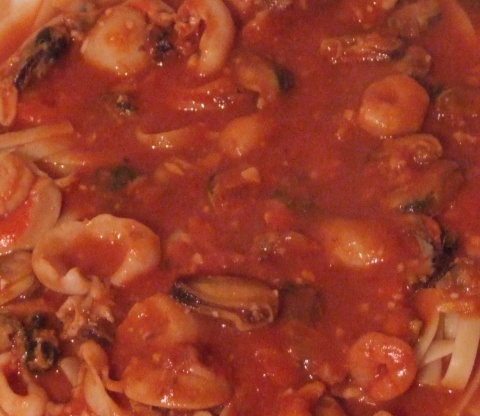 Delicious seafood sauce. The original recipe was in the Australian Women's Weekly with not too many changes by me. I didn't specify how much pasta as we all like it differently, some saucy, some not so saucy.

I enjoyed this meal however I did think the sauce lacked a little zest, I think some worcestershire sauce and maybe a few drops of tabasco would be worthwhile additions. Instead of the prawns I used a good quality marinara mix that contained prawns, calamari, mussels and baby squid. The mix of seafood was really good and I served over some fettucine.
Cook and prepare enough pasta,for 4 people, your choice of pasta.
Put Wine and water in a skillet, heat to simmer point.
Add scallops and cook 1 minute, remove and drain.
Heat oil in the skillet.
Add tomatoes, garlic and tomato paste, stir until combined, cook 2 minutes.
Add all the seafood to the pan and cook 1-2 minutes.
Add parsley, mint and season with salt and pepper.