Marinara Sauce / Spaghetti Sauce Via Bari, Italy
Rita1652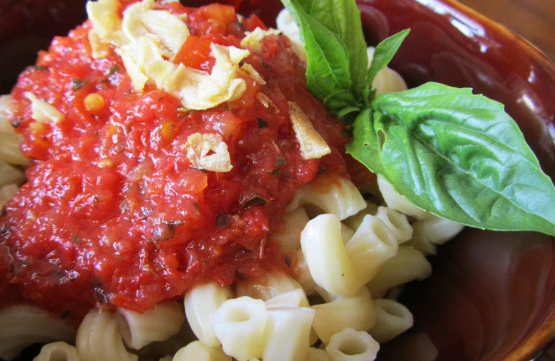 This great yet incredibly simple recipe comes from my friend's mom, Maria Maffei. There is absolutely NO excuse to buy sauce in a jar when you can make this in no time flat. I like to pan fry two pounds of Italian sausage (links, not crumbled), add it to the sauce and let it simmer for up to an hour. NO WINE, NO SUGAR, please. Freezes very well, too. Maria ONLY uses Redpack Crushed Tomatoes in puree or Redpack plum tomatoes which she crushes in a blender, so look for them in your grocer's shelf for maximum flavor. Recipe can be doubled with great results, but tripling, etc... is not recommended.

This recipe proves that sometimes, simple is best!! I have tried so many different marinara recipes, but none were what I was looking for. This sauce is the closest I've found to a local Italian restaraunt. I have never tried making a marinara sauce without onions before, but I think it makes all the difference to leave them OUT! (Who woulda thunk it??) I doubled the garlic, and may increase it even further to six cloves next time (and thinly sliced, as opposed to minced or chopped, is a must!). It was a tad too salty for me, so I added a 15-oz can of diced tomatoes (un-drained), which not only cut down the saltiness, but also helped stretch the sauce a bit further. I found the oregano to be stronger than I would have liked, so next time I'll reduce it to 1 tsp (or perhaps even less). 1/2 tsp red pepper flakes is the right amount for us...a nice kick, but not too spicy. Although wine and sugar might not be bad in some recipes, I agree with the poster that it does not belong in this one!! Thanks so much for sharing...I look forward to trying again with my changes.
In a 4 quart pot heat olive oil on medium heat and add THINLY sliced fresh garlic. Sauté until garlic becomes very lightly golden on edges. If garlic burns, discard and start again as this definitely affects the taste in a negative way.
Add can of crushed tomatoes. Tomatoes should be slightly chunky and not a puree. Turn heat up just a bit until mixture starts to bubble up, but not boil.
Place dried oregano in palm of one hand and use other to crush it over the pot. Add in salt and pepper and stir.
Lower heat to medium-low and cover pot, simmering for 20 minutes. Check occasionally to stir. Enjoy immediately.