Marinara Sauce of Alan Leonetti (2 Servings) (((The Best)))
Bergy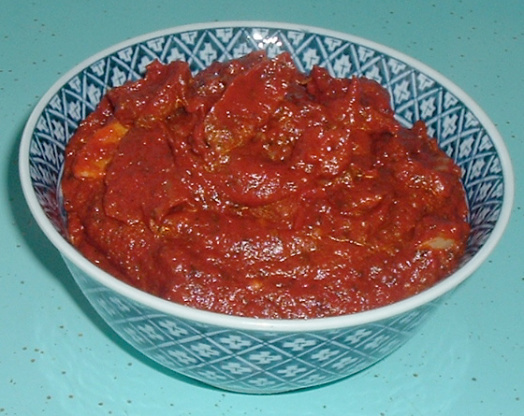 This is the cut down version of my marinara sauce that I usually make and freeze for the year... If the sauce is too thick for you, add a little tomato juice or water or wine, but be careful not to thin it too much. I personally like a very thick sauce. ALL ITALIAN FOOD FROM SOUTHERN ITALY HAS OREGANO. The one person that disagreed with that in their review does NOT know what they're talking about.

:-) Here I am. I have to be honest and say that I was a bit leary of the amounts of herbs this called for. It seemed like an aweful lot. I make my own spagetti sauce which makes 5 quarts after it all cooks down and I still don't use this much herbs. It's well balanced, too. I went ahead and bit the bullet and made it exactly to your specifications. Although this emptied my supply of dried herbs I was pleasantly pleased with the results. This turned out very good. I loved the texture and robustness of the sauce. We like our marinara/spagetti sauce thick, too. This made enough for the doubled recipe of your meatballs, plus some to freeze with the leftover meatballs. To add another layer of flavor, even though the consistancy is spot on, I would add some red wine and let it cook down. Red wine adds a nice flavor to marinara sauces. Thank you for sharing this recipe.
Empty Hunts chunky crushed tomatoes and Hunts tomato paste into the pot.
Add the extra-virgin olive oil to the pot.
Slice the cloves of garlic crosswise into either halves or thirds or pieces, and dump them into the pot.
Dice the shallot, and dump that into the pot.
Add the rest of the ingredients, and stir to mix well with a large long handled wooden spoon.
Do not strain, as the pulp adds to make this a thick and wonderful sauce.
Cover and cook on medium heat, stirring every 10 minutes for about an hour or until it bubbles and is completely heated throughout.
Reduce heat to simmer, and continue to simmer, stirring every 10 or 15 minutes to keep from burning or sticking to the bottom of the pot for 1 or 2 hours.
Remove from heat and give it one last stir.
Serve over spaghetti, ravioli, pasta or use for chicken parmesan, veal parmesan, or anything that calls for a marinara sauce.
NOTE: Use only Hunts Chunky Crushed Tomatoes and Hunts Tomato Paste.