Marinade: Grilled Chicken With Lemongrass & Chilli
gailanng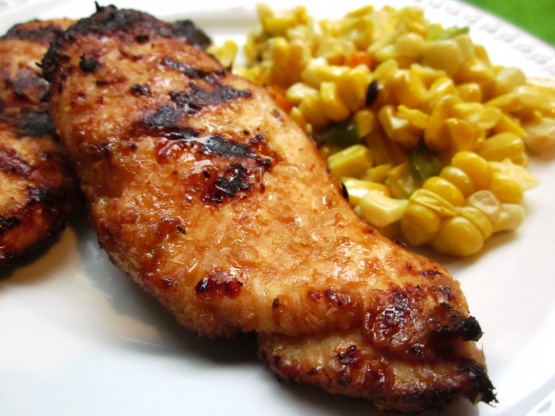 We were on holidays at Surfers Paradise in Queensland Australia. We were out at different restaurants every night. One night we tried Vietnamese. My husband ordered 'Grilled Chicken with lemongrass & Chilli' (Ga nuong xa ot). It was quite a surprise when I sampled his chicken, it was mouth-watering. When we got back home I did some research and attempted to make it. Although I didn't find the exact recipe this version is still yummy. I used chicken thigh fillets instead of breast fillets because the meat is juicer and less fibrous (the restaurant served their dish using thighs). They also used the marinade on Beef, Pork, Prawns, Scallops, Squid, Fish Fillets and Vegetables. To prepare the lemongrass, trim and discard the roots. Use a vegetable peeler to whittle the stalks into thin partial slices. I used half freshly whittled lemongrass and half grated lemon grass. I taste the recipe before I placed the meat in and it's so yummy that I would also use it as a dipping sauce.
Dear Chef, I have not eaten any Lemon Grass grilled chicken with chilli, that's very interesting. I will blend all the ingredients in the blender with the serai / lemongrass , just remove the hardest part and slice the stem finely -- only the white part of the lemongrass. I will add in 1 cup of water to blend all the ingredients ( 1 cup of water to 1 kg of meat ) as it will be much more juicer when deep fry or grill. I have a Airfryer, so will fry it with it. Thanks for sharing.
Combine all ingredients in a large bowl.
To prepare the chicken, cut it 7 cm by 7 cms and cut several small incisions across the chicken to soak up the marinade.
Combine marinade and meat (or vegetables) then toss.
You can either place it in a zip lock bag or just use a bowl with cling wrap.
Refrigerate for about 2 hours, turning occasionally. (I marinated mine overnight).
Remove meat from the marinade and grill until cooked and brown. Discard leftover marinade (if there are any of the ingredients left on the meat or vegetables as it may taste bitter if you decide to leave them on).
Traditionally it's grilled on an outdoor grill so that the coals are white-hot but I used our barbeque.
Serve on a bed of lettuce with Vietnamese fish sauce to dip. Side dish of rice or salad.