Marilyn's Mac and Cheese With Tomatoes
Prep 10 mins
Cook 30 mins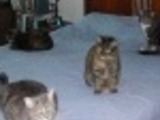 This is different from most mac and cheese with tomatoes recipes, as it does not use flour or milk. It's good for potluck suppers. My boyfriend made this with no low-fat adjustments, and it was pretty darn good. I personally would have used low-fat cheese and yogurt instead of sour cream. This was from the October 2009 edition of Country Living magazine. It's really easy to make too.
Directions
Preheat oven to 350°F Cook macaroni according to package instructions, drain and transfer to a 1 quart casserole dish.
Stir in remaining ingredients and bake until bubbling, around 30 minutes.
Reviews
Most Helpful
This was delightfully different. So light and airy. If there's such a thing as "summer" comfort food, this would fit the bill. Thanks so much for sharing.

A great comfort food enjoyed by all. I did add some pepper. Easy to prepare . Loved it and will make this recipe again. Deserving of 5 stars
This was so delicious and different! I used 1 and 1/2 cups bow tie pasta with about 1 cup of cheese and I sprinkled it with some Italian seasoned bread crumbs and some parmesan cheese. It was divine!