Marie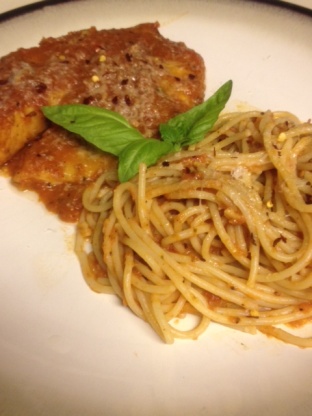 Made this for dinner tonight and it is awesome! Quick, easy and delicious - my kind of recipe.

Who would have known that tilapia went so well with marinara sauce and a side of pasta? This recipe was very easy to follow, quick, and delicious! Thanks, M, for another amazing recipe. I love going to your cookbook for recipe ideas!
Salt and pepper tilapia to taste, then dredge in flour.
Heat olive oil in large frypan on medium high and saute tilapia for two minutes on each side.
Remove fish from pan.
Lower heat and saute onion and garlic in same pan just until soft.
Add tomatoes to blender with onions, garlic, basil and white wine.
Add tomato sauce to frypan and add a little salt and pepper to taste.
Return fish to sauce and simmer for 10 more minutes.
Meanwhile, cook linguine in salted water for 5 to 7 minutes.
Remove fish to serving dishes.
Drain pasta and add to sauce in frypan.
Turn to coat several times with tongs.
Serve linguine alongside tilapia.