Mariel's Amazing Salad Dressing
Ms B.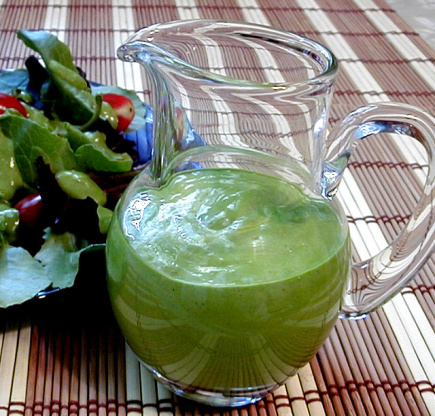 This recipe was adopted after Mean Chef (IHHDRO) left the site. His original comments were, "A very mustardy, robust dressing for salad greens. Can also be used as a marinade for fish. Recipe adapted from Mariel Hemingway." I first prepared it at the urging of Shelly, and wasn't sorry. My original review stated, "This is a very mustardy dressing. I followed Shelly's suggestion of reducing the mustard and adding more to taste as I blended the dressing. I used a dijon dressing and black olives, as this is what I had on hand. I also cut back the recipe to yield only enough for a couple of salads. I knew that my hubby wouldn't be interested, and wanted to make only enough for me to use in a day or so. The flavors are bright and fresh and really add to simple tossed salads. I like the fact that I am gaining the nutrition of the spinach in this dressing." This has become one of my favorite dressings.

This turned out to be a bit thicker than expected. I cut the mustard in half based on previous reviews and then added a bit more olive oil. The taste was a bit strong for me, but I'm still glad I tried it and will make it again and tweak it to meet our family's taste.
combine all ingredients in a blender and blend until smooth.
Store in an airtight container in the refrigerator until ready to use.
Mixture can be used as salad dressing or marinade.