Marie Callender's Potato Cheese Soup
Parsley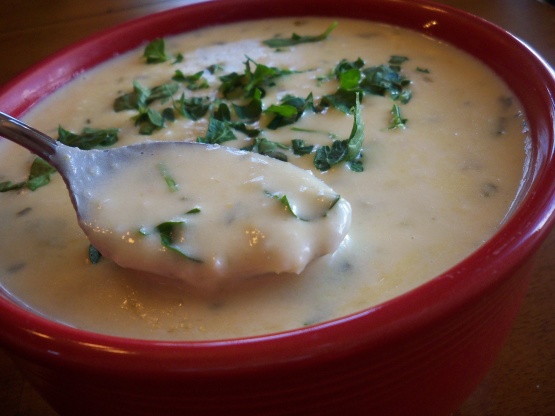 The original recipe is large, so you may want to halve the recipe or make the whole thing and freeze the rest. Good freezing recipe. From: Marie Callender's Restaurants Source: Ask Your Neighbor; Orange County Register 02/24/99 Marie Callender's is a chain of restaurants in the southwest (US). Sister companies are: Chi-Chi's restaurants, Taco Bell, Claim Jumper, El Torito and the Cheesecake Factory.

Great recipe, but I do make changes to this. I worked my way through undergrad as a waitress, so I know that at the rest. they use chicken stock somewhere, because I had to tell vegetarians about that when I waited on them. So, I boil the potatoes and veggies in chicken stock. I pour most of the liquid out when I puree, and I think this might solve the "too thin" problem described by the other reviewer. I also don't puree everything because the real thing has some pretty good size potato chunks in it.
Place potatoes, onions, celery and salt in water to cover in a large pot.
Simmer until tender, about 15 minutes.
Puree just until chunky in blender or food processor fitted with a metal blade.
Return to soup pot; add half-and-half, butter and cheese.
Stirring, simmer until piping hot. (Do not boil.).
Presentation:
Garnish with parsley if desired. Good served with cornbread.