Maria's Greek Chicken Salad
PaulaG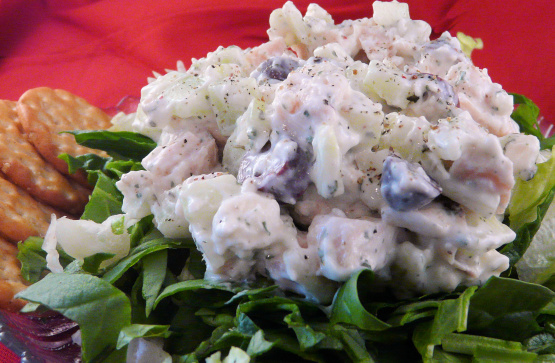 This light and tasty salad recipe was given to me by a co-worker MANY years ago. I have made it SO many times, it would be hard to believe there are very many out there who haven't gotten a copy !! It doubles (or more) easily. 5/09 UPDATE : Hadn't prepared for a few years, and now have GREEK YOGURT available - works well with mayo. This time I added juice of 1/2 lemon -- added nice fresh tingle !
In a large bowl, combine chicken, cucumber, cheese, and olives.
In a smaller bowl, stir together parsley, Miracle Whip, yogurt, oregano, and garlic.
Add to chicken mixture.
Toss to coat.
Cover and chill.
Serve on lettuce (or mixed green) leaves.