Bippie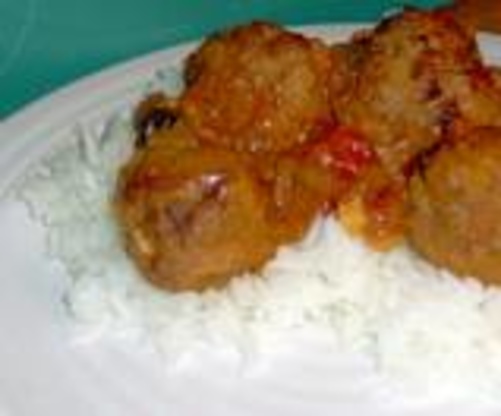 Top Review by Bippie
My last recipe to review for PAC spring '06. I know this was an adopted recipe, so I made many changes. It didn't seem very orderly or time efficent. While the meatballs were in the fridge I was making the sauce so that cut down on a lot of extra time. I also added 1 tsp garlic powder and 1/2 tsp paprika to the meat mixture to give it a little extra kick. Seems to have worked out great because my DH was very happy with the results. The only thing he did mention was that there was not enough sauce. Next time I'll be sure to make more. Great dinner for Cinco de Mayo! Thanks!
In large bowl, lightly combine ground beef with corn chips, milk, egg and 1 t salt.
Cover and refrigerate 1 hour.
Shape into 15 meatballs, using 2 Rounded Tablespoons meat mixture for each.
Lightly roll meatballs in 2 T Flour, coating completely.
In large frying-pan, cook meatballs in hot butter, half at a time, stirring until evenly browned.
Remove meatballs from frying-pan as they are browned.
In same frying-pan, cook onion and garlic about 5 minutes, stirring occasionally.
In small bowl, combine remaining 1/2 T flour and 1 t salt, chili powder and cumin.
Stir into onions.
Add tomatoes, green chilies and olives.
Bring to a boil, stirring constantly; reduce heat, cover tightly and cook slowly for 30 minutes.
Add meatballs to tomato mizture, cover tightly and cook slowly for 20 minutes.
Uncover and continue cooking slowly 10 minutes.
Serve meatballs and sauce over hot rice.