Margo's Maple Pecan Squares
momaphet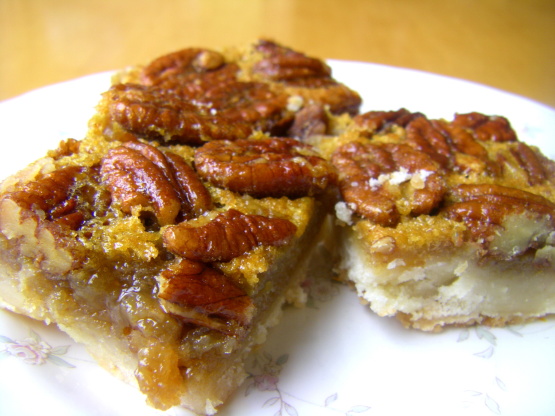 Got this from the April 25th edition of the Ottawa Citizen.
These are delicious, rich and gooey like a good pecan pie. The maple syrup doesn't shout maple at you (which is good cause I'm not a big maple fan) but gives it a nuance that you wouldn't get with plain corn syrup. I would increase the vanilla as a personal preference - I usually do this when making pecan pie. The shortbread crust is very rich, which makes these cookies perfect for the tea table cut into small squares. I think pecan pie is the easiest pie to make, if your craving that and don't want mess with pie crust go with these cookies. I baked the cookies in a 9x13 pyrex dish - started to use the parchment, but it was annoying, so I just sprayed the dish and put the dough in without it, they came out very easily and cleanly, so save your parchment for dishes that need it. This recipe is simple enough for beginner cooks or kids to turn out a delightful treat that seems much more complicated then it is. Thanks Sam for another great recipe. Made for Please Review My Recipe Tag April 09
Preheat oven to 350°F.
Spread pecans in a single layer on a baking sheet and roast them 10 minutes, set aside.
Combine 1st measurement of flour and sugar, stir in melted butter.
Line a 9x13in baking pan with parchment paper, allowing about 2in to hang over each end.
Press mixture evenly into bottom of pan.
Bake 10 minutes.
Whisk together brown sugar, maple syrup and eggs.
Gently whisk in 2nd measurement of flour, salt and vanilla.
Fold in most of pecans, reserving a few for the top.
Pour mixture over shortcake base.
Sprinkle reserved pecans on top.
Bake 30 minutes.
Cool 2 hours before removing and cutting.