Margaritas and Shrimp All Around

First prepare the Margarita and put in the refrigerator to keep cold, then work on the shrimp. The recipe works best if you sample the margarita as you prepare the spicy shrimp. Be sure to leave at least a 1/4 cup for the shrimp or you will have to make more margaritas. Depending on how much you have sampled you may want someone else to tend to the grill. And, as always, don't skimp on the quality of tequila. Oh, and the shrimp is phenomenal!
Directions
Combine all of the Awesome Margarita ingredients in a large pitcher and stir until the sugar dissolves. Refrigerate.
Preheat broiler or grill.
Put some crushed ice in a glass and sample margarita.
In a glass mixing bowl, mix a 1/4 cup of the Margarita with the oil and chipotle. Season with salt and pepper, add shrimp and toss to coat. Let stand for 15-20 minutes.
Meanwhile, Put some crushed ice in a glass and sample chilling margarita.
Drain the shrimp and arrange on a baking sheet.
Check glass to see if it is in need of refill.
If you are grilling the shrimp, put 2 shrimp on each of the 16 skewers and grill shrimp for 3 minutes, turning once. Or if you are using your oven, broil the shrimp as close to the heat as possible for 2 to 3 minutes, turning once, until opaque and cooked through. Put 2 shrimp on each of 16 skewers and serve warm or at room temperature with lime wedges.
Go ahead and refill your glass -- you deserve it!
Reviews
Most Helpful
My bueno!! What a wonderful margarita and shrimp! Definitely repeating this one. Thanks for sharing.

No doubt an *awesome* Margarita to sip on while preparing the shrimp! Thank goodness, these were handed to DH to put on the barbie ;) They were delicious, both the Margaritas and Shrimp. Next time I'm making them for the whole gang. Terrific Recipe, deserving more than 5 stars...!!! Thanks for Sharing - Made for ZWT3 Cheers ~V

Definitely a 5-star recipe, but mainly for the Margarita. I did add a bit of honey but omitted the sugar entirely, as per personal preference. Since I'm vegetarian I used what I thought would be an excellent substitute for shrimp, which is tofu (not the silken variety). I was very pleased with the way it grilled up so nicely (with a nice brown crust, as per picture), but I must admit the margarita marinade didn't penetrate the tofu much because although it tasted hot, it was a bit bland otherwise. In order to brown the tofu the way I like it I had to broil for 5 minutes on each side. Shrimp will cook more quickly and might absorb the marinade better. Truly awesome margarita, though! Thanks!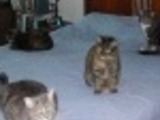 Summer Central