teresas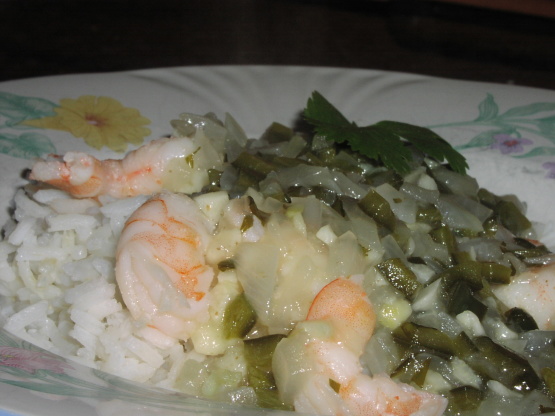 I've had this recipe hanging around for a long time...It's from a restaurant called "Aunt Chilada's" and was sent in by Chef Jesse Gonzales...hope you enjoy it!

Had to work 8 to 7 today and wanted something good for dinner that didn't take too long. This fit the bill perfectly and was delicious. The only think I might change next time is to grill the shrimp instead of sauteing. I picked the shrimp up on my lunch break, so it was nice and fresh. It really did taste like a margarita! Thanks for sharing! Made for PRMR tag game.
In a sauce pan melt 2 tbls butter and saute shrimp till pink, set aside and keep warm.
In a separate sauce pan melt 2 tbls butter and saute, onions and garlic until tender.
Add lime juice, triple sec and tequila, simmer for about 5 minutes.
Add 4 tbls butter, slowly melt and stir in ground coriander.
Mix together the cornstarch and water, set aside.
Add in the fresh cilantro and poblano peppers to saucepan and simmer for 5 minutes.
Stir in the cornstarch mixture until thicken.
Top cooked shrimp with the onion mixture.