This recipe uses large or extra large shrimp with similar ingredients as found in a Margarita cocktail. Rice and a green salad completes the meal.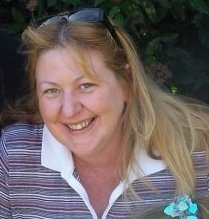 Top Review by Jubes
*REviewed for ZWT5 Chow Hounds Team visit to Mexico* We really enjoyed this for dinner. The recipe came together really quickly. The longest time was the preparation of the prawns. THis would be a great meal to cook on a hot evening as there is very little cooking time involved. The flavours worked wonderfully together. Served with simple boiled rice for a lovely dinner. Sorry, I didn't get a pic with flat batteries. We'll be making this recipe again.
Shell, devein, and butterfly shrimp (partially cut down the back and "flatten"). Place shrimp in a bowl and add lime juice, salt and pepper; stir.
Peel avocado and cut into 1/2 inch slices. Sprinkle with a little of the lime juice to prevent discoloration.
Heat butter in a skillet, over medium high heat, until hot but not smoking. Add shrimp and stir about 2 minutes. Add shallots and continue cooking and stirring about 10 seconds. Add the tequila, being careful that it does not ignite. Add the cream and cook about 1 minute. Add salt and pepper to taste. Add avocado and cook just until heated since avocado will become bitter if heated too long.
Remove shrimp and avocado to serving dish with a slotted spoon. Bring sauce to a full boil for about 30 seconds. Add cilantro; stir. Spoon sauce over shrimp and serve.